Getting to the
point of loyalty

in a cost-of-living crisis
What's the point of loyalty in a cost-of-living crisis? How does consumer behaviour change during times of economic uncertainty?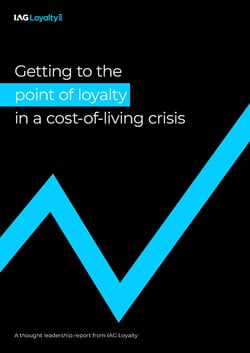 Download the full report and find out today.
state that loyalty programmes provide extra value during a cost-of-living crisis.
of people are finding new ways to collect points at this time of crisis.
find it harder to give up their annual holidays than their own birthday.
Loyalty programme members can provide up to 5x the value of non-members* – so their importance to your business is clear. But as the cost-of-living crisis sees consumers reducing their spending, how will their behaviours change over the coming months? And just what does it mean for you and your programme?
We commissioned a behavioural experiment with over 1,000 people from the UK to understand how they really feel about loyalty heading into 2023.
*Based on UK-based British Airways Executive Club Blue tier members vs British Airways customers not enrolled in any programme.
With this report you can:
Explore the importance and value of loyalty programmes during a cost-of-living crisis.
Learn how loyalty behaviours are being impacted – and how your own loyalty offering could be affected.
Uncover the role rational and emotional behaviours play when consumers consider collecting and redeeming loyalty points.
Find out what consumers' intentions are when there is more pressure on their wallets – and what this means for loyalty.
Discover which rewards people prioritise during a cost-of-living crisis.
To download your free copy of our report, simply fill in your details above and we'll send it straight to your inbox.